Babies Dribble and Drool makes a great GIFT for new parents or a fun FAVOR at babyshowers. An hilarious yet poignant read for older parents and the childless, everyone.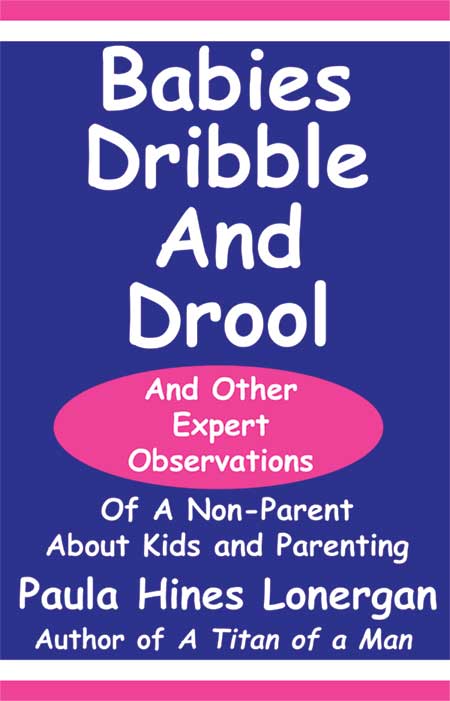 "This book is full of humor and truth."
Jami Hill, Altadena, CA
Author Paula Hines Lonergan has a new baby. Her "Baby" doesn't cry or poop, but is funny, wacky, and wise. The new baby in her life is her book entitled, "Babies Dribble and Drool and Other Expert Observations of a Non-Parent About Kids and Parenting."

Reactions to Babies Dribble and Drool may vary:
• If you are a parent you might shake your head in amazement at the things some kids and parents do, but won't want to admit you did some of them, too.

•If you don't have kids, while reading this you will laugh and either desire to get pregnant right away or never.

•Are you expecting a baby or know someone who is? You will all get a kick out of the things you will learn. You'll learn more about dribble, drool, all the strange places vegetables can go, the many uses of breast milk, when raising a racket is a good thing, and much more...

Ms. Lonergan has learned the most fascinating things about kids. Both parents and non-parents will laugh out loud at the vignettes and commentary of this "parenting expert."
Paula Hines Lonergan, author of A Titan of a Man - A Coach of the Famous '71 Titans is an expert on kids and parenting, even though ironically she has no kids of her own. She offers her own interesting and humorous perspective on babies, kids and their parents.
ISBN 0-9743957-1-4
4.95